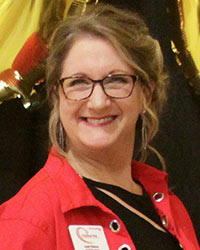 Judy Patton is the owner of P & P Plumbing, where the belief is, "The Bitterness of Poor Quality remains Long after the Sweetness of low prices is forgotten". P& P Plumbing offers Commercial and Residential plumbing repair, small Commercial tenant finish outs or residential remodeling for Johnson and surrounding Counties.
Judy is the 2019 Chairman for the Cleburne Chamber of Commerce, serving her second term on the Board of Directors and Executive Board. She has been heavily involved in many chamber events such as the Golf Tournament, Business Expo and the Chamber Annual Banquet.
As seasoned Ambassador of eight years, Judy has participated in countless ribbon cuttings, After Hours and Community Improvement Awards. As the recipient of the 2011 Wall of Fame Award and the 2018 Golden Cup Award for membership endorsement, she takes great pride in her "Red Jacket" activities and above all enjoys visiting new and established businesses, owners and their employees, seeing their facilities that have been remodeled or a new facility that has been built. Through this, Judy sees a great deal of potential for growth in the City of Cleburne.
In addition, Judy has been a Johnson County CASA (Court Appointed Special Advocate) and board member for over nine years. She encourages anyone who wants to help positively change a child's life to become a CASA volunteer, and help them from becoming trapped in the court and child welfare system. Yes, You Can Do It.
Charles Patton, her husband of 28 years is the love of her life. Judy enjoys a close relationship with her daughter Amy and husband Dave who reside in Keller, TX and her son Chris and his wife Ashley in Monument, CO. Her children will tell you that no one can spoil Grandkids like Judy Patton.
Judy was presented with a Gold Cup Award at the April 2019 Chamber luncheon.