CLEBURNE CHAMBER CELEBRATES
NATIONAL SMALL BUSINESS WEEK
SMALL BUSINESS BINGO
May 1-9, 2021
SORRY, WE HAVE NO MORE AVAILABLE SPOTS
But for NEXT year, feel free to read up on how this works!
It's limited to first 25 member small businesses to commit.
Must have a public storefront or office in Cleburne with regular business hours.

Must have fewer than 20 employees.

Must provide a door prize worth at least $25.00. (You'll keep this at your location--we recommend that you display it for participants to see. Winner will come to you to pick it up!)
We will provide a stack of bingo cards and a unique stamp with which to mark your company's square on the playing card.
PARTICIPATION REQUIREMENTS:
Commit to participate by submitting the lower section of the form on page three ASAP.
Decide what you intend to provide as a door prize. Send a photo of your door prize, as well as key details about it.
Email a logo suitable for a 1"x1" square to staceyg @ cleburnechamber.com
Help promote! Post on your social pages that you're participating, invite your followers to participate as well. Share details about the prize you're contributing.
Give bingo cards to those who come into your shop during the promotion.
Keep the Chamber-provided stamp/ink handy and stamp any participants' cards when they come in, no purchase necessary. Cards can be stamped May 1 – May 9.
LET ALL OF YOUR STAFF KNOW!
Seriously, let all of your staff know. Clueless staff leads to frustrated participants, and the whole point is to give participants a fun, positive experience with your brand.
Make sure your door prize is available for pick-up during the week of May 10-14.
Do not sign up if your shop cannot fulfill these requirements.
How it works:
You and twenty-four other member small businesses contribute one door prize each, and commit to both help promote Small Business Bingo and stamp participant cards.
You keep your door prize at your location.
Your business logo will go in a square on the front of the bingo card (see example on next page) with your company name and address listed on the back of the card.
Stacey will bring you a stack of bingo cards and a unique stamp on Thursday or Friday, April 29 or 30.
Starting Saturday, May 1, please use the provided stamp to mark your company logo on the front of bingo cards—the ones you have and any that are brought into your shop. Give bingo cards to people in your shop who don't already have one. If you run out, call and we'll bring more.
As with any bingo, the idea is for public participants to collect at least one full row of stamps. Up to five rows may be collected on a single card. (One card per participant.)
For every bingo (up to five), participants fill out one box at the bottom of the bingo card.
Participants can leave completed cards with you or bring them to the Chamber. Chamber staff will pick up cards and stamps on Monday and Tuesday, May 10 & 11.
Chamber staff will verify bingo cards and process them for the drawings. We will do twenty-five drawings (one for each door prize) on FB Live Wednesday, May 12, with winners notified by phone the same day.
Winner of your prize will come to your location to pick it up.
IMPORTANT NOTES
This is a NO PURCHASE NECESSARY promotion. We wanted to be able to include more than just retail businesses.
This is a celebration of small business. It is designed to get people in your doors who might not otherwise visit. People are more likely to come back if they've been there before and had a positive experience.
If this is going to be a hassle for your staff, please do not commit your business. Again, we want participants to have a fun, positive experience with your brand and reluctant/grudging stamps is not fun or positive.
We even recommend keeping a jar of Smarties or other small candies to give along with bingo card stamps. Ask if they've been to your shop before. No? Hooray and welcome! Here's some candy. Yes? Hooray and welcome back! Here's some candy. If your stamp makes a BINGO, make a big deal of it!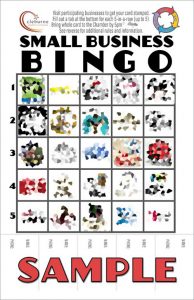 PARTICIPATING BUSINESSES 2021

Miss Minnie's Mercantile
Antique Findery
Bus Depot Antiques & Marketplace
Heritage Home - Vintage Inspired Living
Trovato Street
Mug on the Square
Central Station Toys
Bennett's Printing & Office Supply
Country Creations Monogram & Embroidery
Cleburne Floral
The Shabby Shack
The Strand Hair Studio, Tanning, & Boutique
Read Fine Art Gallery
Crystal Plaster - State Farm
Educational Opportunity Center
Rowlett's Hardware
Apos Boot Outlet
Apos Western Wear & Boutique
The Published Page Bookshop
The Layland Museum of History
JN Long Cultural Arts Complex
Bob's Auto Supply
Here For You Automotive
Personnel Services
Cleburne Chamber & CVB